I had always wanted to go on a dedicated birdwatching holiday, as my wife and son always complain if I spend too much time with my binoculars on family holidays. And so it was that after reaching the tender age of 60, I joined an enthusiastic group of fellow birders from Bristol to fly to Southern Spain for a week's birding. I expected to see some very special birds, including Great bustards, and I was not to be disappointed.
---
Black-winged stilts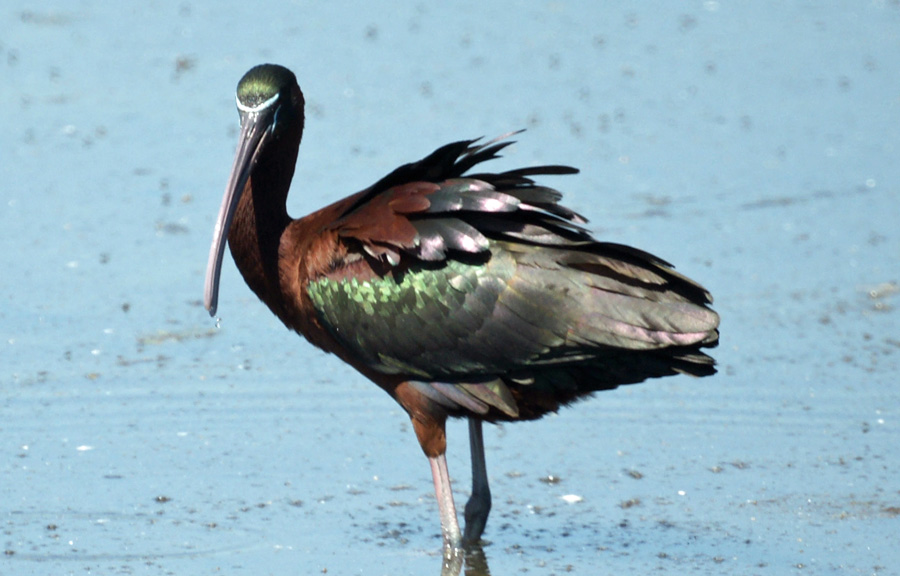 Glossy ibis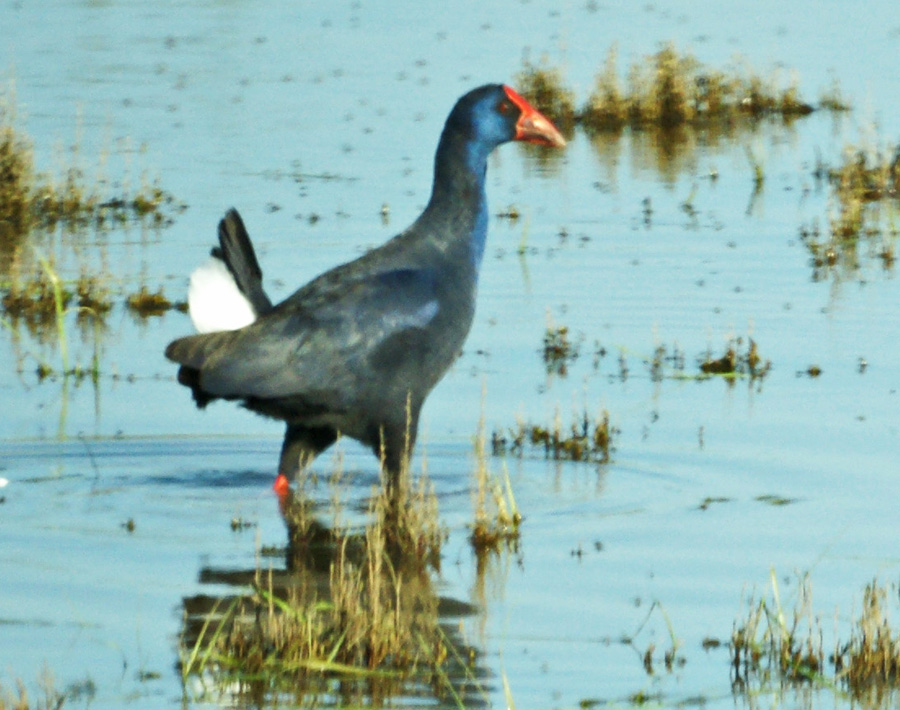 Purple swamp hen

Sanderlings
Collared pratincole
Day 1 We flew early to Malaga and were met by our guide for the week, Santiago Villa of Spainbirds. Our base for the first 3 days was the small town of El Rocío, on the edge of the Doñana National Park in Andalucia. This is a truly delightful town with dusty tracks and hitching rails outside houses as the locals ride around on horseback. On the edge of town is a pretty lake, the Madre de las Marismas, in which horses graze on the reeds and spoonbills and black and whiskered terns fly by. We ate "raciones", large bowls of tapas, on a trestle table under a 600 year-old olive tree in what was, for us, unusual bright sunshine. Black kites wheeled overhead, occasionally swooping down to pluck snails or small, but very vocal, frogs from the lake surface.


El Rocío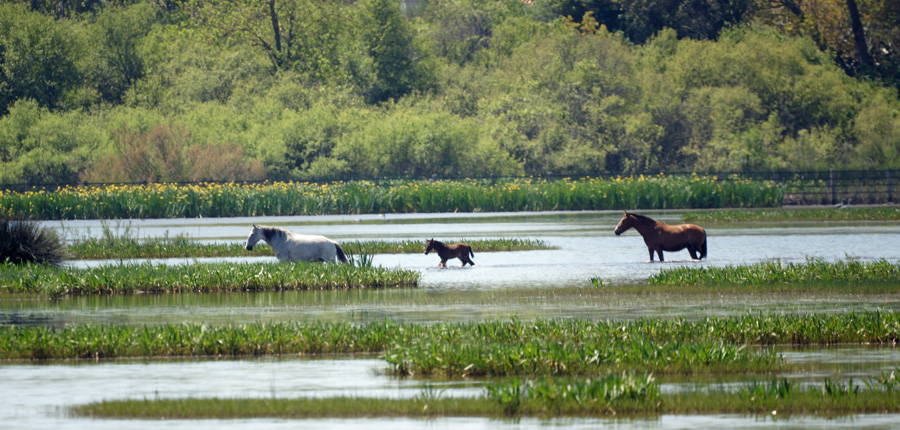 Madre de las Marismas
In the evening we went for a stroll on the edges of Doñana and were rewarded with a distant Spanish Imperial eagle, a lovely close view of a Woodchat shrike and a flock of Collared pratincoles overhead; I saw 44 species of birds that day, and even heard a nightingale.
Day 2 This was the day we were to experience the true beauty of the Doñana National Park and we were underway by 0800. We stopped by a small stream on the edge of the park and a Zitting cisticola gave a virtuoso performance on the end of a nearby branch and we were extremely lucky to spot an elusive Little bittern fishing quietly from a log across the stream about 15 m away. The park is surrounded by a low fence to stop the threatened Iberian lynx from running out into the road and this provided a great number of posts from which to watch the Iberian Yellow wagtail, Crested larks, Woodchat shrikes, Northern wheatears and our first Melodious warbler. We stopped to admire a lively colony of nesting White storks at Villamanrique before heading off to the tranquil José Valverde vistor centre and settled down to watch Glossy ibis, Black-winged stilts, Greater flamingoes and a colony of nesting Cattle egrets and Black-crowned night herons at close range.
Returning to Doñana, we enjoyed good views of both Greater and Lesser short-toed larks, Calandra lark, Purple heron, Booted and Short-toed eagles, Avocet, Little and Black-necked grebes, Squacco heron, Gull-billed terns and a trio of Great spotted cuckoos hunting insects on the road-side verge. A setting sun highlighted a majestic Purple swamp hen strutting across a shallow lagoon.
At the end of the day I had seen, or heard, 75 different species of birds including many I had never seen before ("lifers")
.
Day 3 A very different day's birding lay ahead with a trip to the marine saltmarsh, the Marismas del Odiel and the breakwater at the mouth of the Odiel river outside Huelva. A brief stop at a woodland glade on the way gave us close views of Azure-winged magpies, a singing Serin, a foraging Hoopoe and Tree sparrows. On reaching the Odiel marsh we heard lots of Marsh frogs calling, and saw Redshank, Greenshank, Spoonbills, Little egrets, Dunlin, Grey, Kentish and Ringed plover and an Osprey. A group of European Pond terrapin sunned themselves on a log. We visited the Juan Carlos I breakwater and saw Collared pratincole, Sanderling, Whimbrel, Redstart, Bonelli's and Sardinian warbler, Little, Sandwich and Black terns and a couple of Auduin's gulls amongst the numerous Black-headed gulls.
Day 4 We left El Rocío to journey onwards to Extramadura. We stopped in a wood (Palacio Acebron) that was teeming with singing Nightingales, Cuckoos, Hoopoes, Serin and Cetti's warblers and Short-toed treecreepers. A nearby lake ( La Rocina) gave good views of Savvi's warbler, Spoonbill, Whiskered tern and Purple swamp hen. On the tracks I saw Wood lark, Stonechat, Bee-eaters, Melodious warbler and Woodchat shrike. We stopped at the Alange reservoir for Gull-billed terns, Montagu's harrier, Blue rock thrush, Thekla lark, Sardinian warbler, Crag martins and Alpine swifts. After a lengthy journey we arrived at our hotel in Torrejon El Rubio, on the edge of the Monfragüe national park.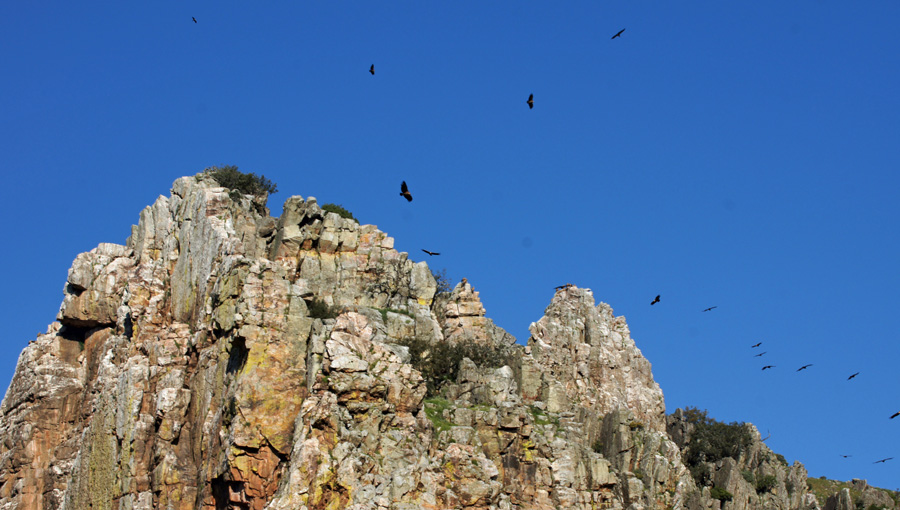 Monfragüe Salto del Gitano
Day 5 We visited the Salto del Gitano viewpoint, where the early morning light on the mountain gave us excellent views of nesting Black storks and Griffon vultures. Huge vultures drifted lazily by and one bird posed on a nearby rock. Other great birds seen here were more Spanish Imperial eagles ( a breeding pair), two hunting Bonelli's eagles, chasing a Red-legged partridge (which got away!), a Blue rock thrush, several Rock buntings, a Black redstart, Egyptian vulture and Short-toed eagle. In the lake formed by a bend in the river a European otter with two cubs drifted out into the water, caught a large fish and brought it back to its' cubs. Our guide stopped at a water trough and showed us the tiny but delightful Bosca's newt.
In the afternoon we visited the Dehesas, mountain pastures covered with small woodland trees like cork oak and olive, great for Azure-winged magpies, Orphean warblers, Serins, Garden warblers and Sardinian warblers, seen by all. We even saw a Sharp-ribbed salamander and a Natterjack toad resting up in an empty swimming pool (we released the toad into some long grass because it was a long climb back up the ramp left for any creatures stranded in the pool). We watched House martins gathering mud in front of us for their nests whilst Swallows hawked for insects all around the meadows. We headed to the Castillo de Monfragüe where we had stunning views of Griffon vultures and a close view of a Blue rock thrush.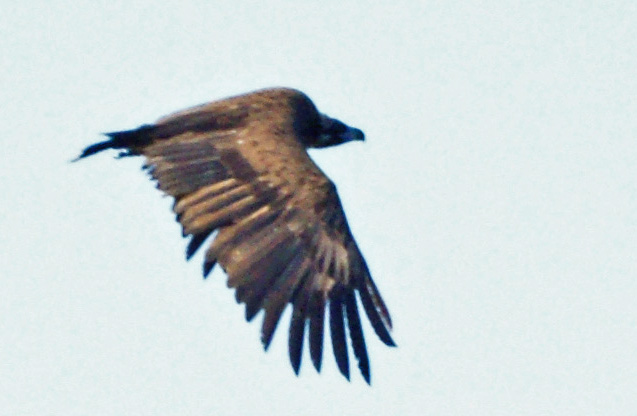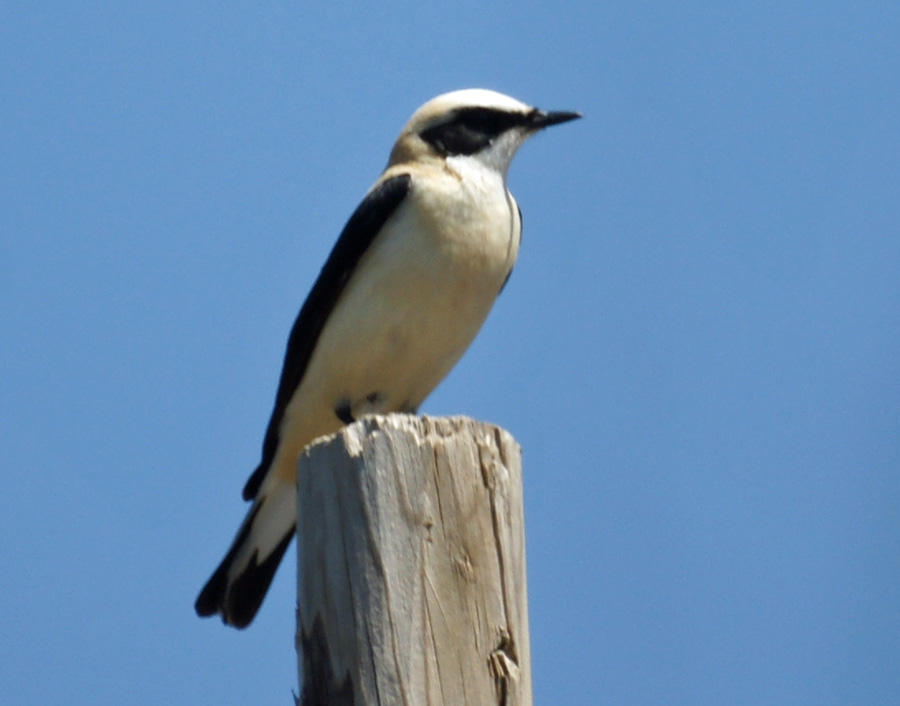 On the journey home we saw Black vultures and a Black-eared wheatear.
Day 6 This was the day for seeing Great bustards, necessitating a very early start to be out on the Cáceras plain by 0730. In the early morning mist we stopped on the "B" road from Santa Marta de Magasca to Cáceras and were rewarded by seeing a flock of 12 Great bustards in a roadside field. The females were busy feeding whilst one amorous male tried to interest the ladies with his impressive "inside-out" display, but they were unimpressed. Some of the birds took off and drifted over the road, the others flew in a different direction.We saw several solitary male Great bustards throughout the day, but never another flock, perhaps they had dispersed to feed and the females weren't quite ready to breed, after what had been a cold and wet Spring in Extramadura as well as in UK. Amongst the short turf we saw a large flock of Pin-tailed sandgrouse, but these were very wary birds and we never saw these close. We also saw Little Bustard that morning, but never more than one at a time and we saw no more than three all day. The other bird I was desperate to see was the Roller and these had just arrived from Africa. On a track near Monroy we saw at least 30 birds; there because the local bird-groups had put up nest-boxes for these on all of the telegraph poles. Only the occasional Lesser kestrel had used these boxes as well.
After watching Rollers we saw a Montagu's harrier drifting over, another Great spotted cuckoo and a small flock of Black-bellied sandgrouse, two of which whizzed close by in a blur of movement. A Short-toed eagle posed for us on an empty post
We visited a small ravine leading to a reservoir and the mountain pastures were a delight, covered in Spring flowers. A fully awake adult Serotine bat crawled around in a bush by the path, Extramadura is certainly full of surprises.
We visited Trujillo where Lesser kestrels wheeled over our heads in profusion, swifts darted around the rooftops and White storks clattered their bills from the steeple of the local church. We stopped to watch a female Golden eagle on her nest in a distant tree and also saw an Iberian Grey shrike. On the way home we watched Bee-eaters nesting colonially in a river-bank.
Day 7 All good things must end, so we faced our final day with some sadness, but still hopeful of seeing more birds. We were travelling to Madrid for our evening flight but had a full day for the journey so we stopped near Arrocampo and saw both Black-winged kite and Penduline tit, building its' woven nest by the lake.
We visited a local quarry looking for Eagle owls but these recently reared their brood which had fledged and dispersed. Instead we saw large numbers of unusual orchids and other flowers including Woodcock, Naked-man and Green-winged orchids.
A wonderful holiday, graced by great weather and lots of birds, my personal tally was 151 different species with 30 "lifers". Some of our group managed 165 different bird species, but I guess you can't see them all; at least I'd seen Wild Bustards!

Rob Miles 3rd May 2013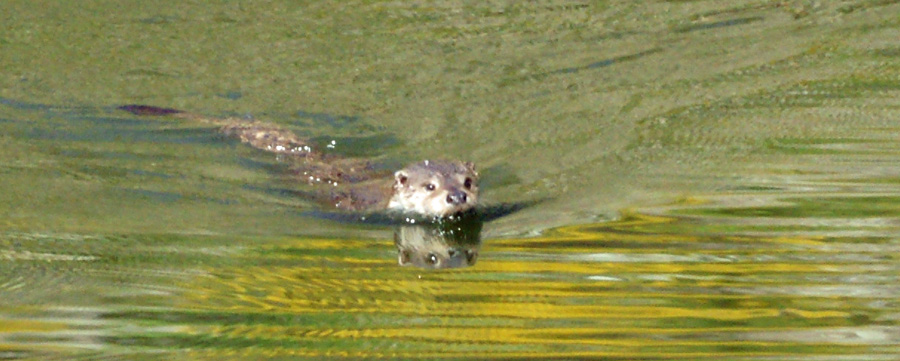 European otter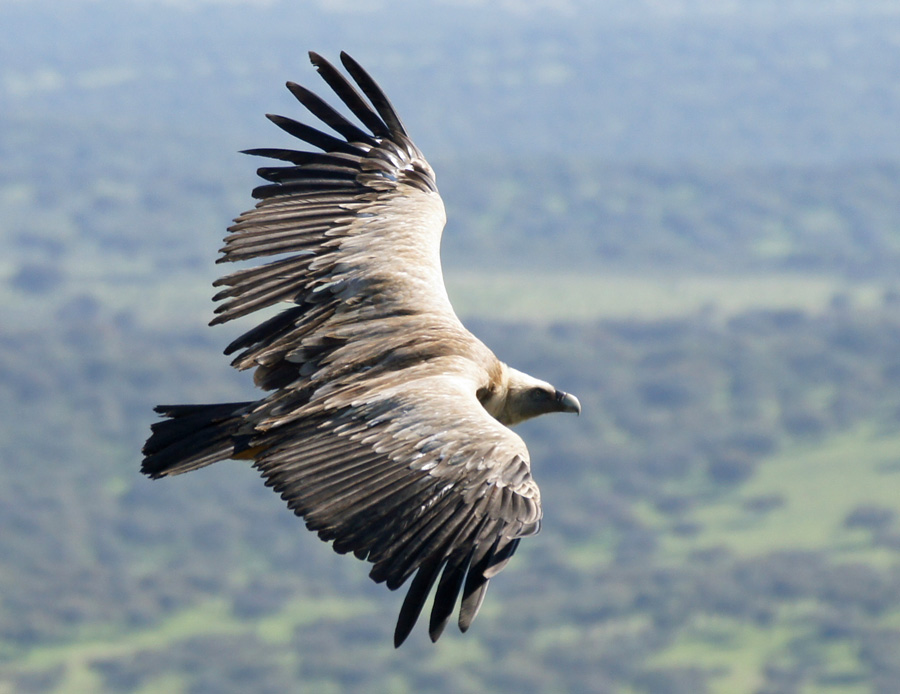 Griffon vulture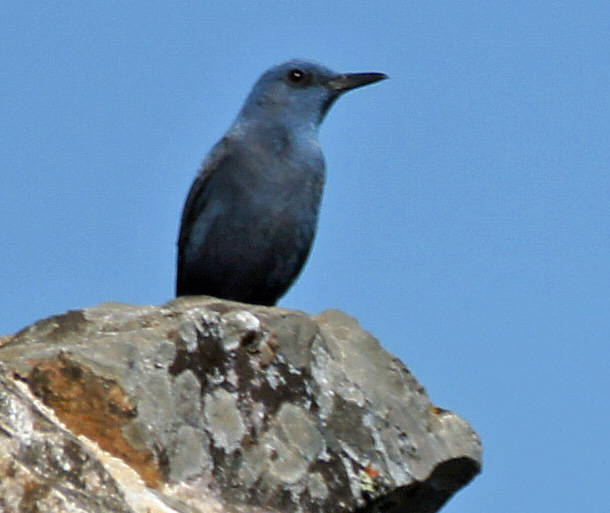 Blue rock thrush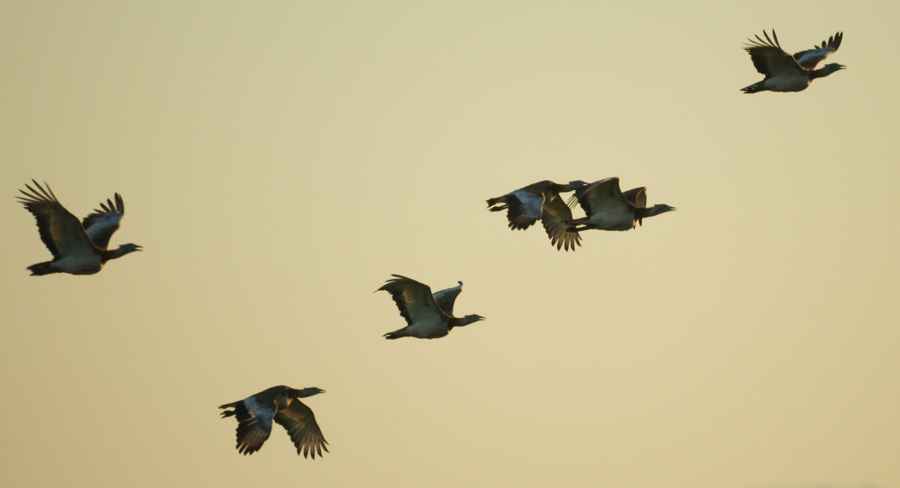 Spanish Great Bustards flying over the Cáceras plain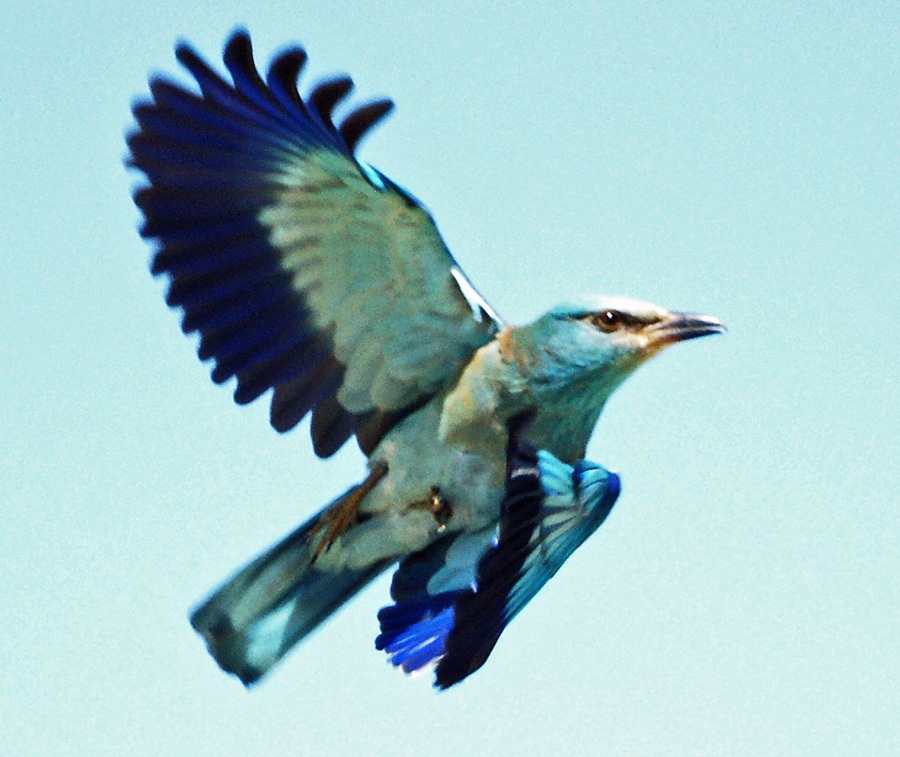 Roller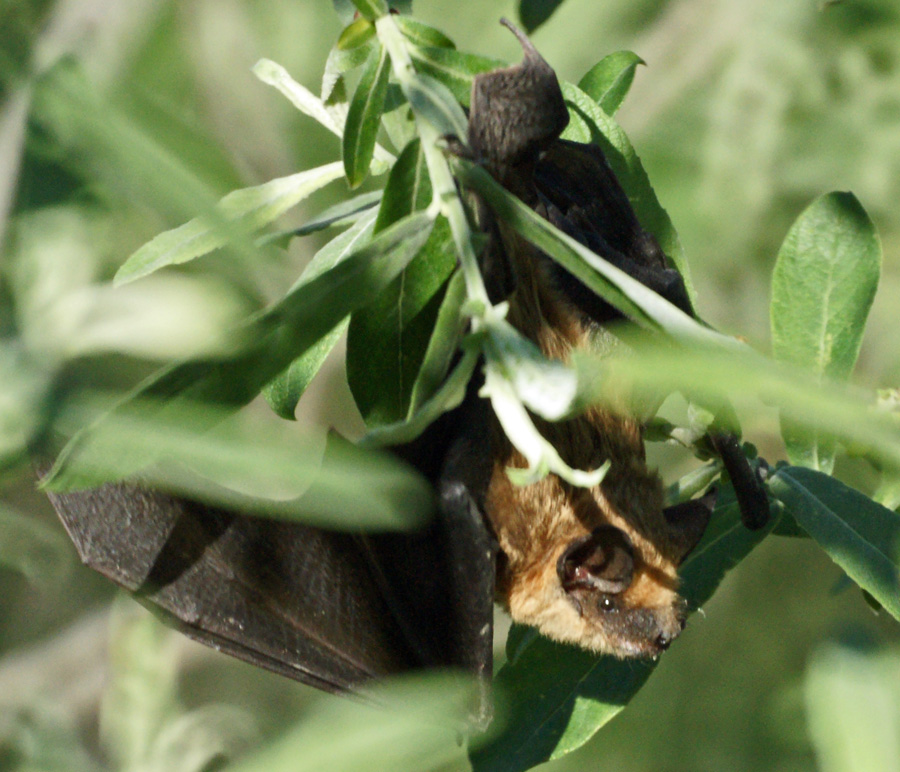 Serotine bat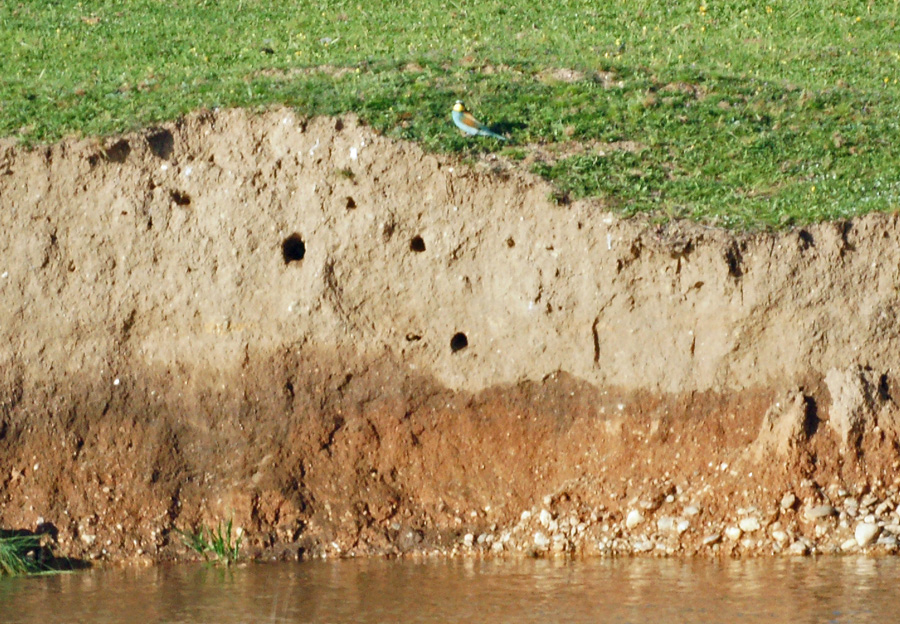 Bee-eater colonial nests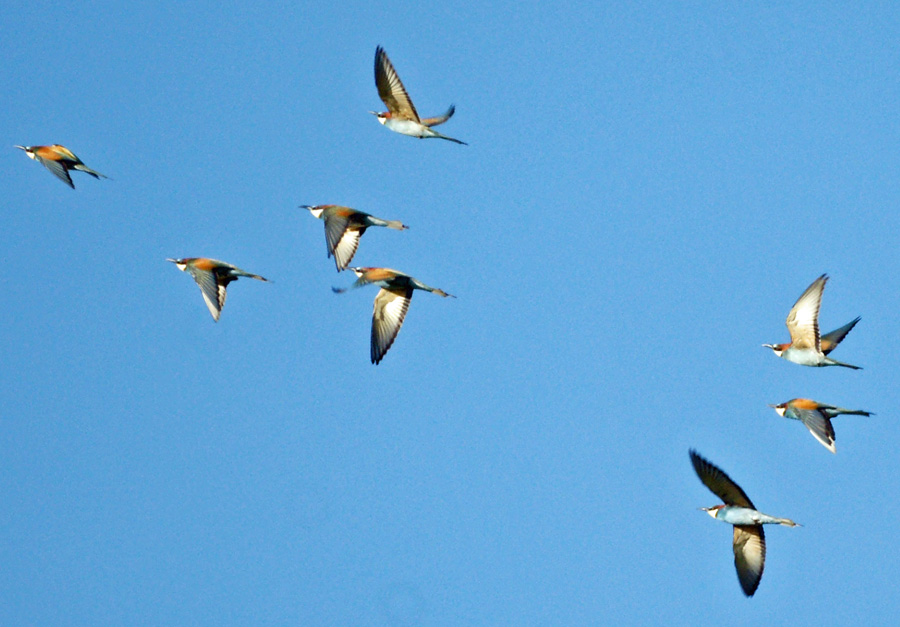 Bee-eaters