Ethiopia 2018

Elaine and Mike Landen
On 26 September we travelled to Heathrow to catch an over-night flight to Addis Ababa for our nineteen-day holiday in Ethiopia. The trip was organised by Oriole Birding, a UK firm based in Norfolk and led by Steve Cale and Measho Legesse, an Ethiopian guide. The main aim of the holiday was to find a lot of interesting birds and mammals as well as to learn something of the country and its peoples.
On arrival at Addis we were quickly transferred to our hotel and after checking in, we spent the morning birding in the hotel gardens and in the afternoon, we visited a local marsh. We had an excellent start with a long list for our first day, including 6 endemics. Among the species seen were Dusky Turtle Dove, Abyssinian Slaty Flycatcher, Ayre's Hawk-eagle, Blue-breasted Bee-eater, African Snipe and Abyssinian Longclaw.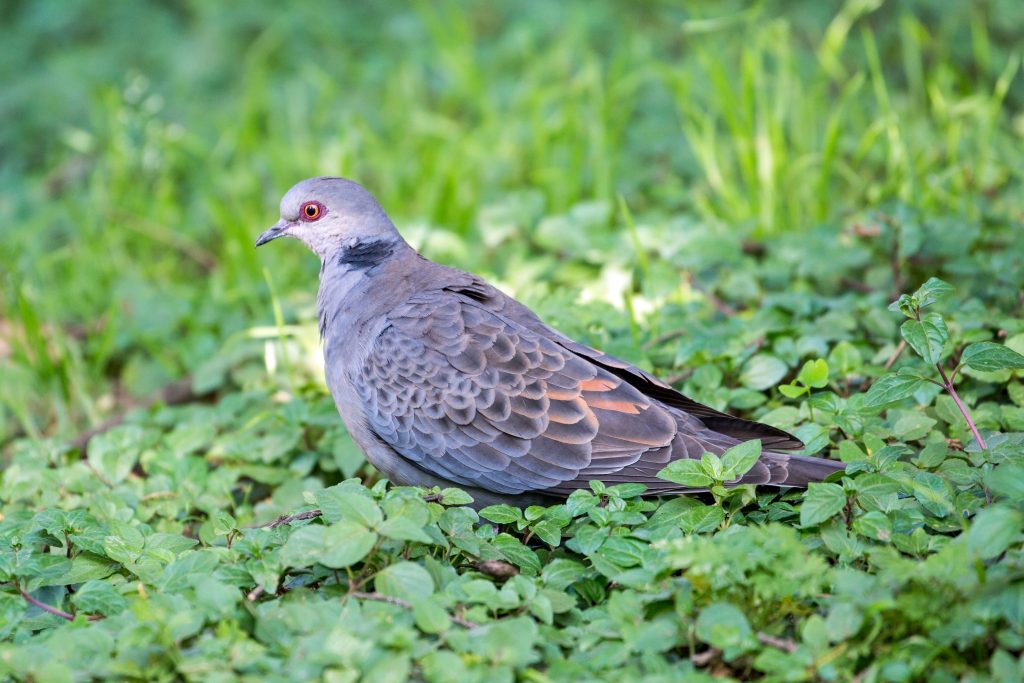 Dusky Turtle Dove
The following day we travelled north over the Entoto mountains to Debre Libanos, birding at a number of sites on the way. The highlight of the morning was seeing 2 huge Lappet-faced Vultures, a stunning female White-headed Vulture and a couple of Tawny Eagles, all squabbling and taking turns at a dead hare that had become a road casualty. We were able to get out of the bus and watch these fantastic birds for some time before they eventually flew.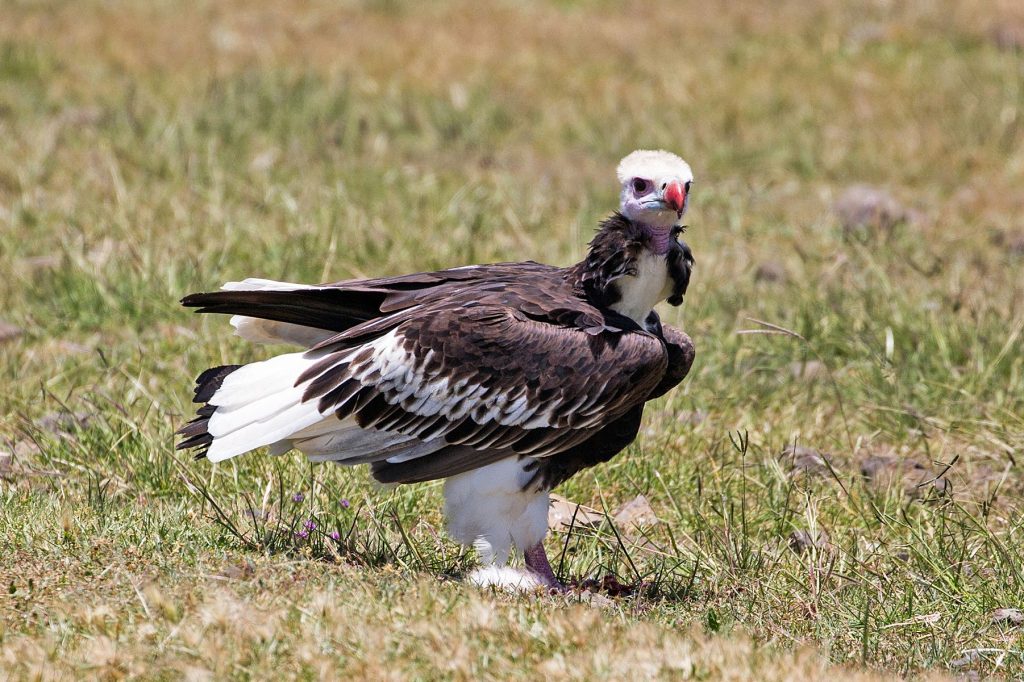 White-headed Vulture
We arrived at our lodgings just after lunch and found that there were splendid views over the Blue Nile Gorge. We had several sightings of Lammergeier, along with Ruppell's Griffon Vultures that soared at times below us. Later we drove to the monastery at Debre Libanos and on the way we had fine views of a splendid troop of around 50 Gelada Baboons that gave good views. The next day we drove along the rim of the Jemma Valley to a spot where we met some local guides who found us the rare Harwood's Francolin and although the bird was some distance away, we have had good views through the telescope.

Jemma Valley
We moved down the valley and our every growing gird list included the Erlanger Lark which was our thirteenth endemic. Then it was on to Debre Burhan where we stayed for 2 nights. The following day we drove to a small wetlands area where we saw a number of waders, including 21 Spot-breasted Plover, yet another endemic. After a great day's birding we stopped at the local refuse tip which was probably the most horrendous birding site that we have ever been to but we were rewarded by an amazing view of a juvenile Lammergeier.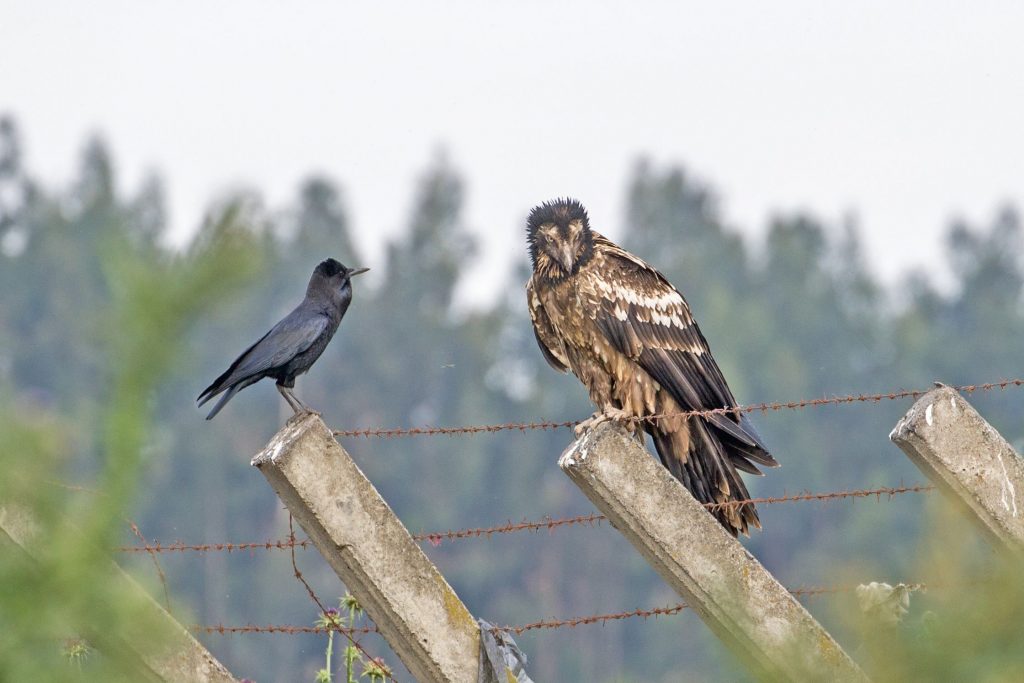 Lammergeier
The following day we travelled down the Rift Valley stopping at some of the lakes on our drive which finished at Lake Ziway. We stayed at a very nice hotel right by the Lake and the birding opportunities were excellent. Among the species seen on our two walks were Great White Pelican, African Fish Eagle, Hammerkop, Sacred Ibis and Little Bee-eater.

Three-banded Plover
We returned to the lakeside the next morning and then set off on the next leg of our journey south. We stopped at an acacia woodland where two local people showed us two roosting Slender-tailed Nightjars. They appeared to be used to birders because they allowed us to approach with 10 meters without showing any signs of distress. There were a number of occasions when local people found us the bird that they knew we wished to see. They were of course rewarded for their efforts so we hope that this will encourage preservation of the local habitat.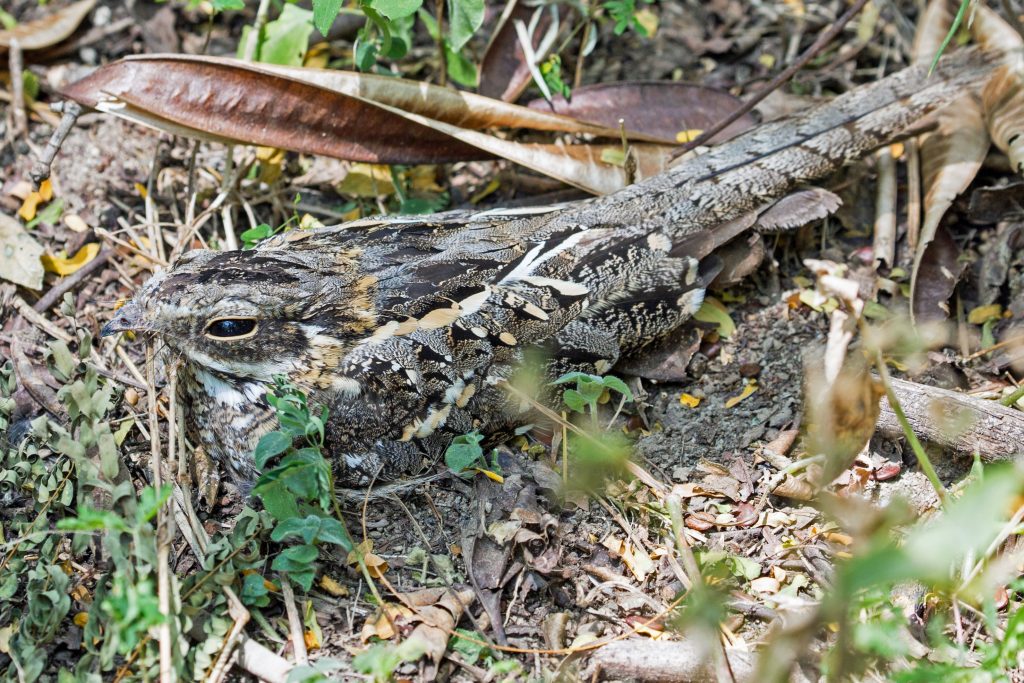 Slender-tailed Nightjar
Then it was on to the Bale Mountains where the next day due to very poor road conditions (we were just at the end of the wet season) we needed to hire a small 4-wheeled drive vehicle to reach the Sanetti Plateau at a height of over 4000 metres. This is where we hoped to see the rare and endemic Ethiopian Wolf and we were rewarded with some excellent views of a number of these magnificent animals. Although this was primarily a birding tour seeing the wolves was probably the highlight of the holiday.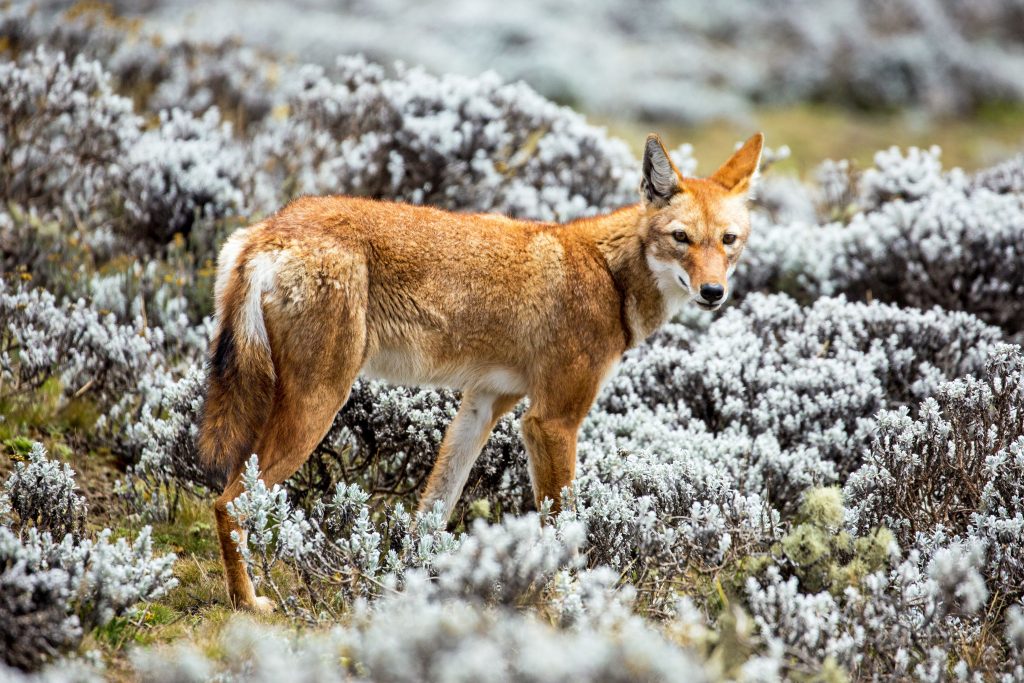 Ethiopian Wolf
Although the plateau is at a high altitude the landscape is really beautiful.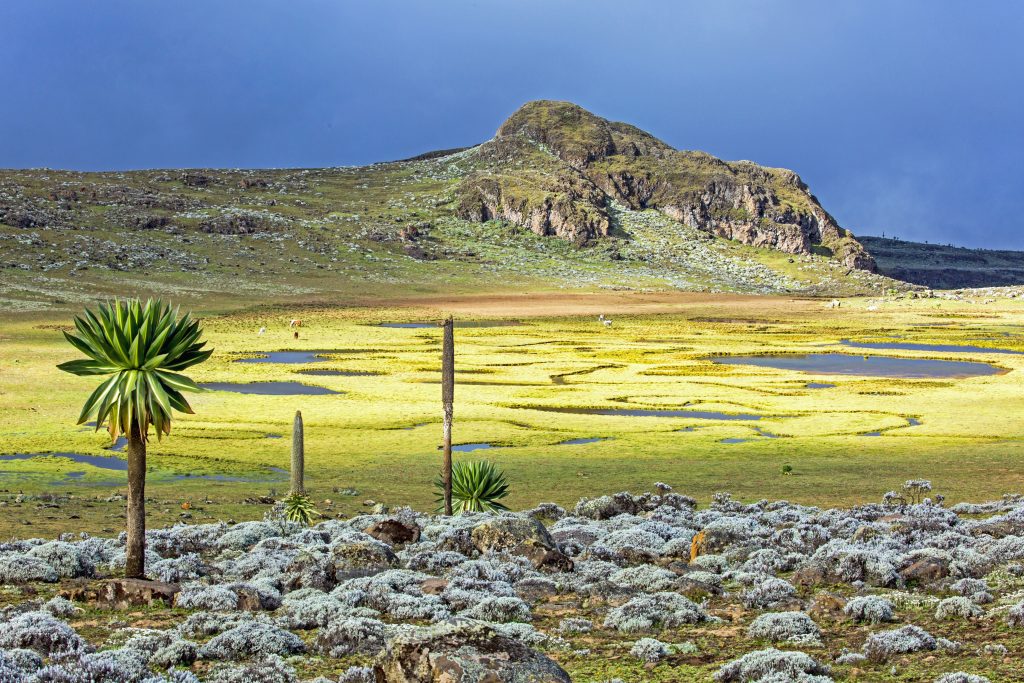 Sanetti Plain
Our plans for the next day had to be amended due to the poor road conditions but it all worked out very well. Our first stop was at the main park entrance area where we met a local guide who took us in to look for owls. He led us to a day time roost for African Wood Owl. We also had good views of an Abyssinian Catbird and an Abyssinian Ground Thrush. It was back to the road where saw lots of Warthog, a superb Menelik's Bushbuck and around 20 Mountain Nyala. Also, along the roadside a large troop of Olive Baboon were feeding which included mothers with youngsters, juveniles and a couple of large males. We reached our destination, Wando Genet around lunchtime and spent the afternoon birding along a forested track where we saw Narina Trojan, Silvery-cheeked Hornbill and our target bird for the area, Yellow-fronted Parrot.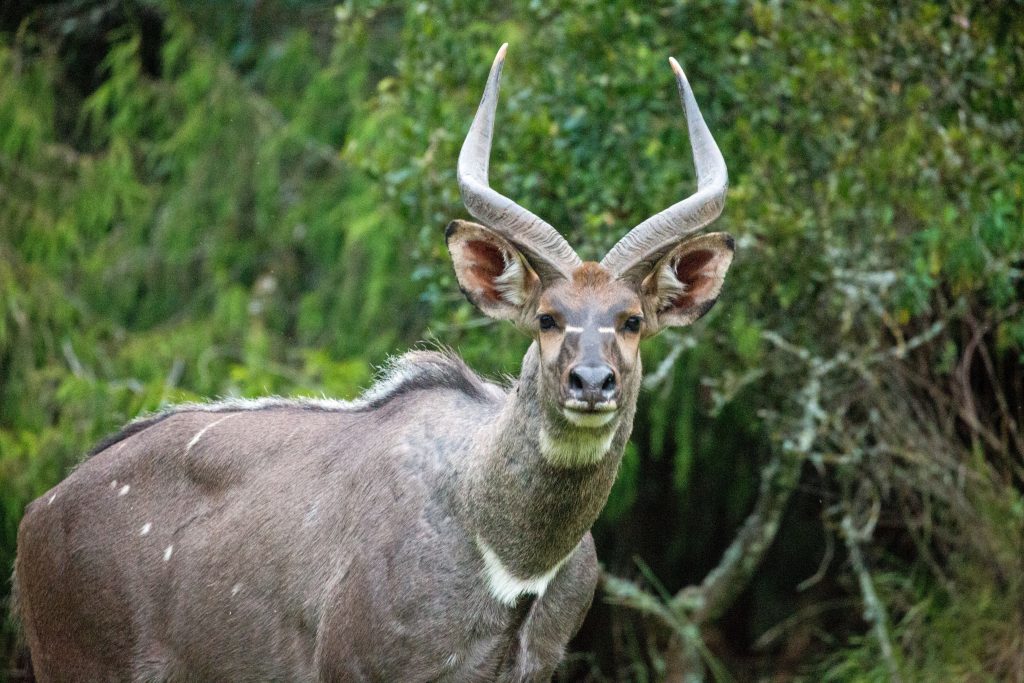 Mountain Nyala
Another early start on the following day for our journey to Negele allowed us to make a number of short stops on the journey and gave us enough time to do some birding in the Nigele area in the late afternoon. We saw a number of pairs of stunning Red and Yellow Barbets residing on the tops of termite mounds and added African Golden Oriole, Northern White-crowned Shrike and Buff-crested Bustard to our ever-growing list but failed to find Prince Ruspoli's Turaco, which was a bird we all wanted to see. So, the programme for the following day was amended to allow us to have another try for this bird. After a drive of over an hour we stopped at Measho's secret site. Low & behold within 5 minutes of getting out of the bus there was a splendid pair of Prince Ruspoli's Turaco feeding in a fruiting fig tree. The birds showed well, displaying their flamboyant white crests, red bills, eye make-up and red primary panel. What fantastic birds.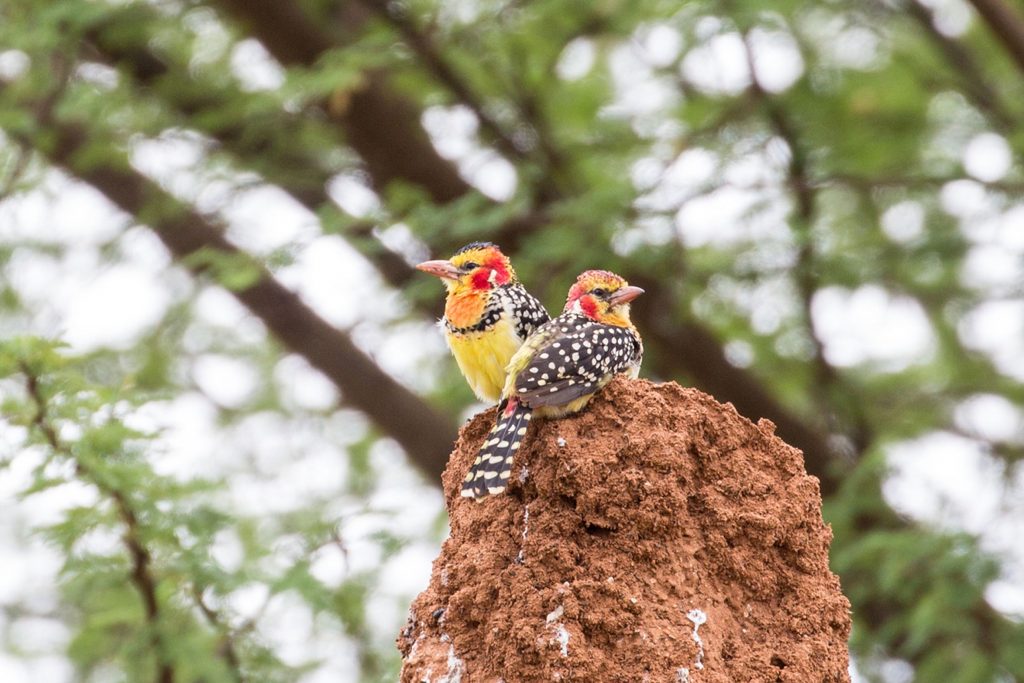 Red and Yellow Barbet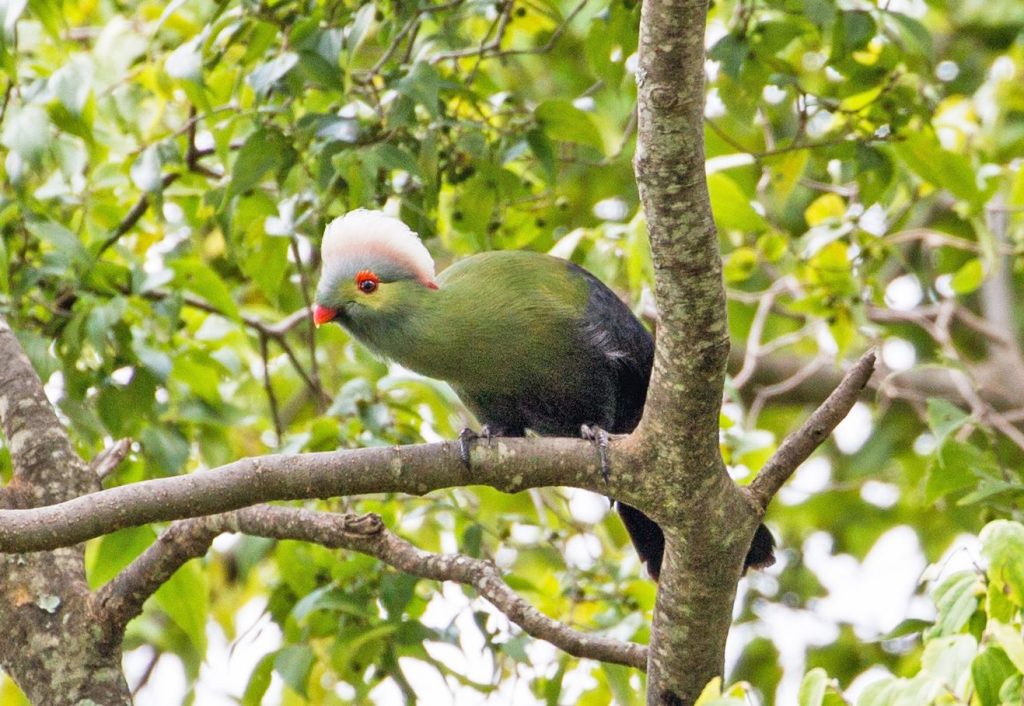 Prince Ruspoli's Turaco
We returned towards Nigele and spent much of the afternoon walking on the Liben Plain where we eventually had reasonably good views of the Liben Lark which was our 25th endemic bird of the trip so far.
The next day involved a detour because of some reported problems along our scheduled route so our journey to Yabelo took well over 12 hours. Fortunately, we did see a number of interesting birds including a Dark-chanting Goshawk perched on a telegraph pole and, when it flew, it gave us an amazing view as it was carrying a lizard in its claws.
We passed through many villages and always people, both children and adults, would smile and wave. When we stopped children appeared as from nowhere but they did not trouble us at all and it was particularly pleasing to see so many returning from school, carrying their books.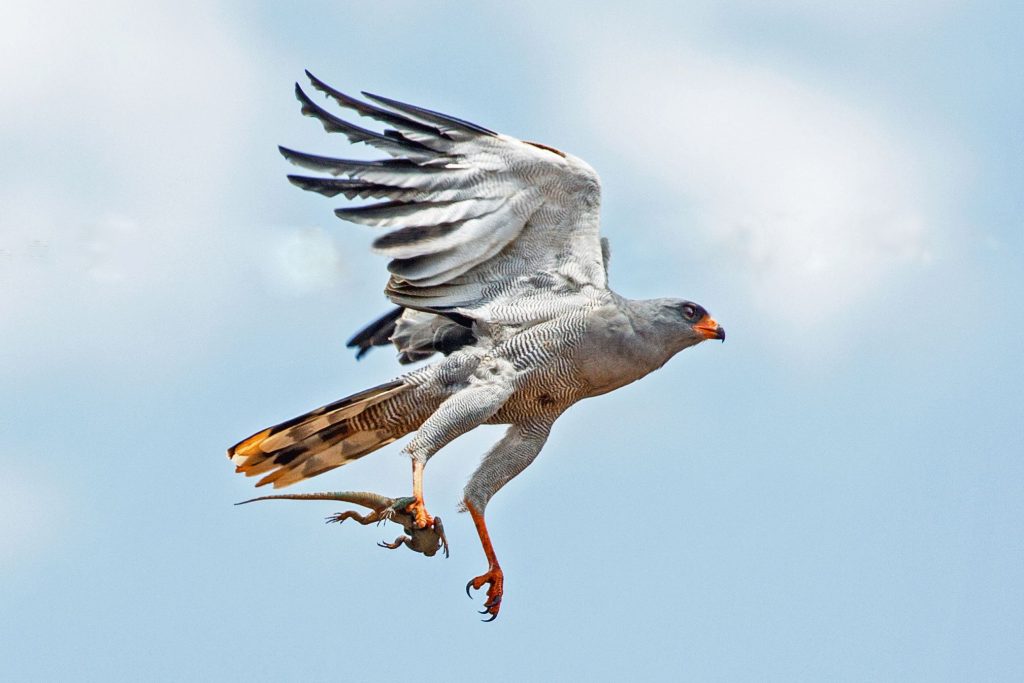 Dark Chanting Goshawk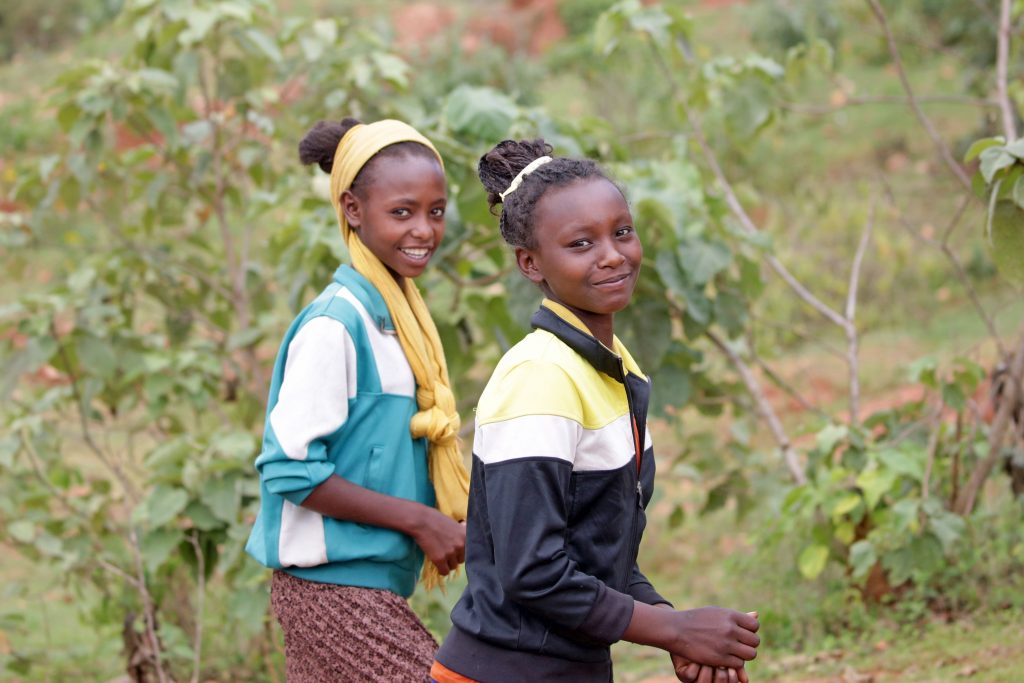 Two Ethiopian Girls
It was after dark when we arrived at our hotel in Yabelo, which is only about 100 miles from the Kenyan border. The journey to the southern part of Ethiopia was really worthwhile as the next day gave us what was probably the best day of birding we have ever had. We spent most of the day birding several areas in the Yabelo Wildlife Sanctuary, an absolutely brilliant place with a large number of different species of birds, many giving amazing views. These included Rosey-patch Shrike, Grey Wren-warbler, White-browed Scrub Robins, Foxey and Gillets Larks, a pair of Pygmy Batis, a pair of Purple Grenadier, Black-breasted Snake Eagle, White-tailed Swallow and White-crowned Starlings. We also added Grant's Gazelle to our mammal list.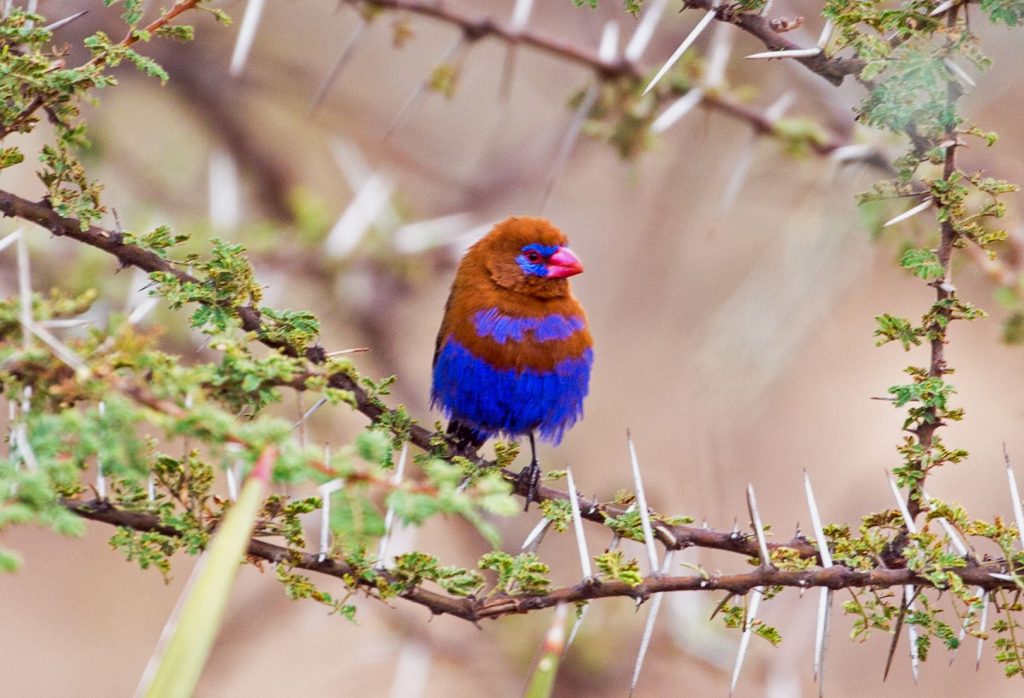 Purple Grenadier
Late morning saw us moving on to another area where we found the bird that we all wanted to see – the Stresemann's Bush Crow, which can only be found in this particular area of Ethiopia.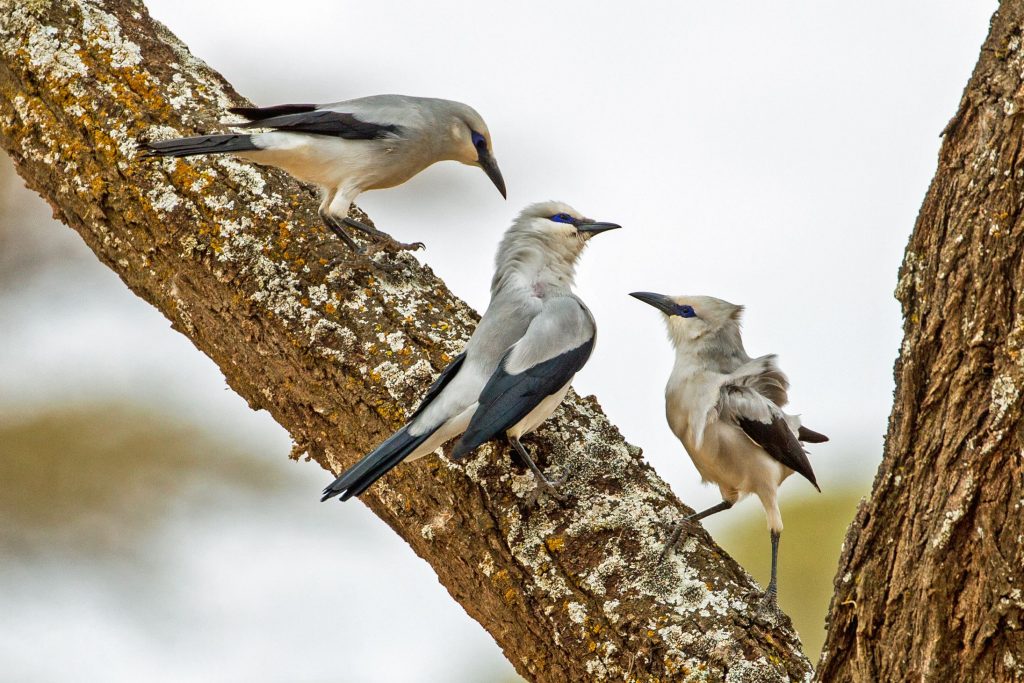 Stresemann's Bush Crow
Later Superb Starling, Grassland Pipit, Red-billed Hornbill, both Bearded and Cardinal Woodpeckers, European Hoopoe, Klass's Cuckoo and a pair of smart Northern White-crowned Shrike plus Pale Flycatcher were among the birds seen.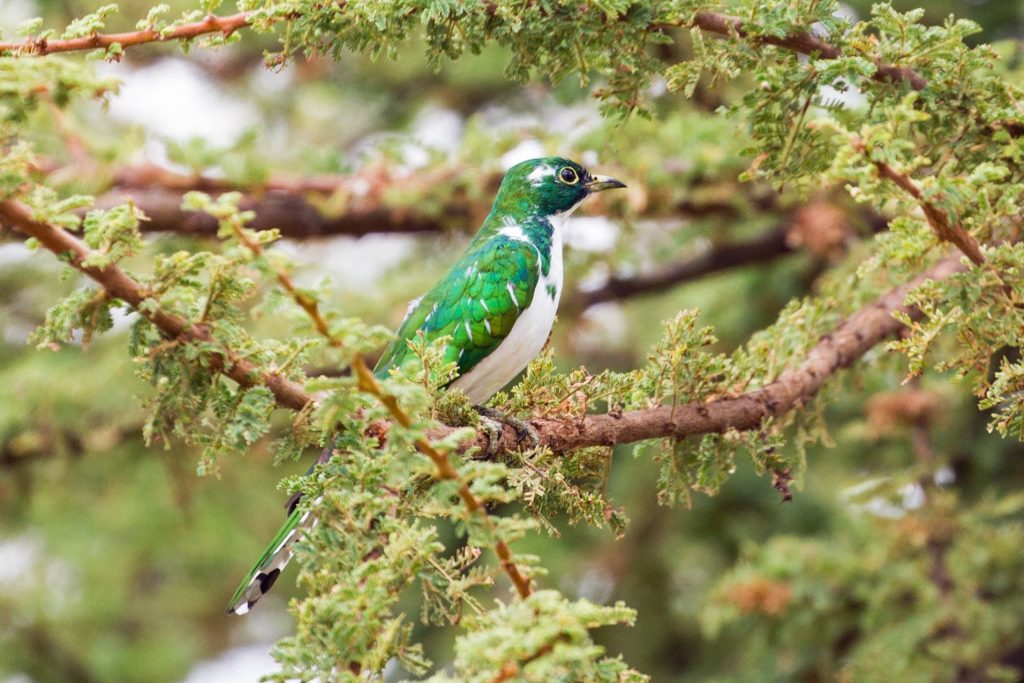 Klass's Cuckoo
We found many more species in the afternoon with White-bellied Go-away Bird, Red Fronted Barbet, Kenya Violet –backed, Mariqua and Beautiful Sunbirds all showing well.
As we began to head for our hotel, we spotted about 25Vulturine Guineafowl and what an incredible bird this is; beautifully coloured and generally found in groups.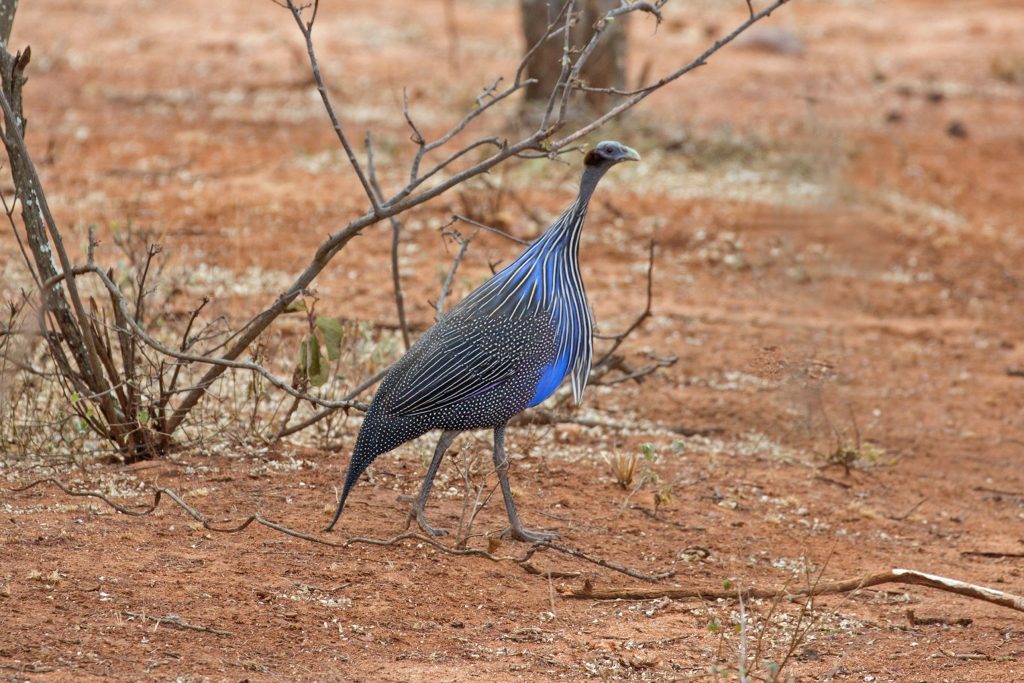 Vulurine Guineafowl
To finish the day, we had a good view of a White-bellied Go-away bird and, in the fading light, spotted a Dwarf mongoose.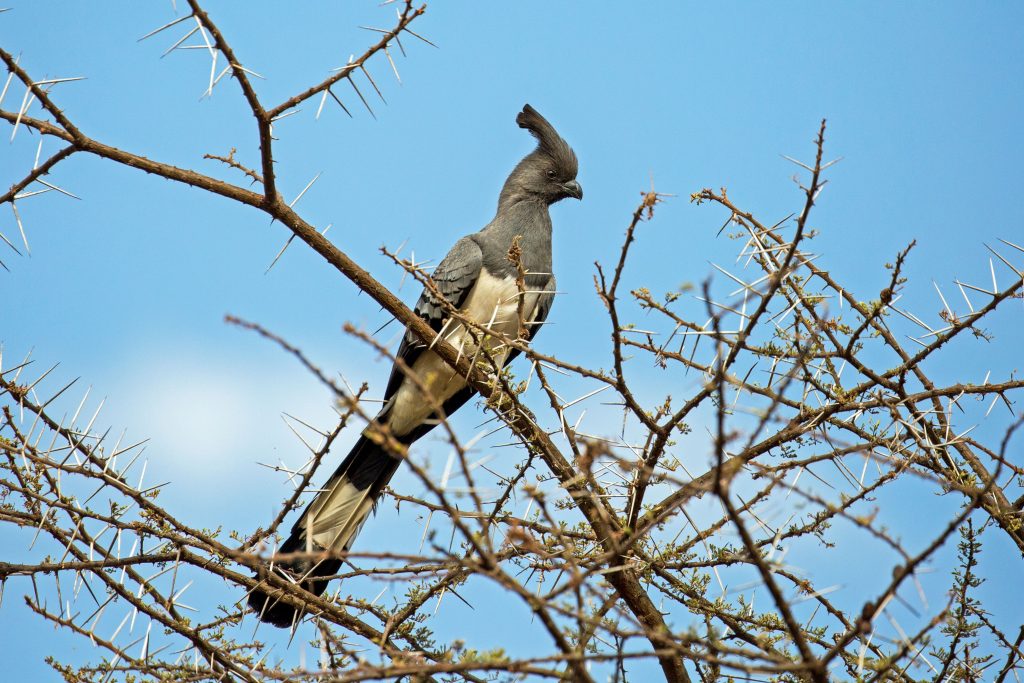 White-bellied Go-away Bird
A wonderful and satisfying day!
After an early breakfast the next day we set of North up the rift valley. We drove to Lake Awassa and our first stop of the day gave us fine views of a group of around 50 Helmeted Guineafowl that showed well. A little further on & we found an area where lots of Starlings were in the roadside Bushes and saw Golden-breasted Starling, Greater Blue-eared Glossy and Superb Starling as well as one Shelly's Starlings.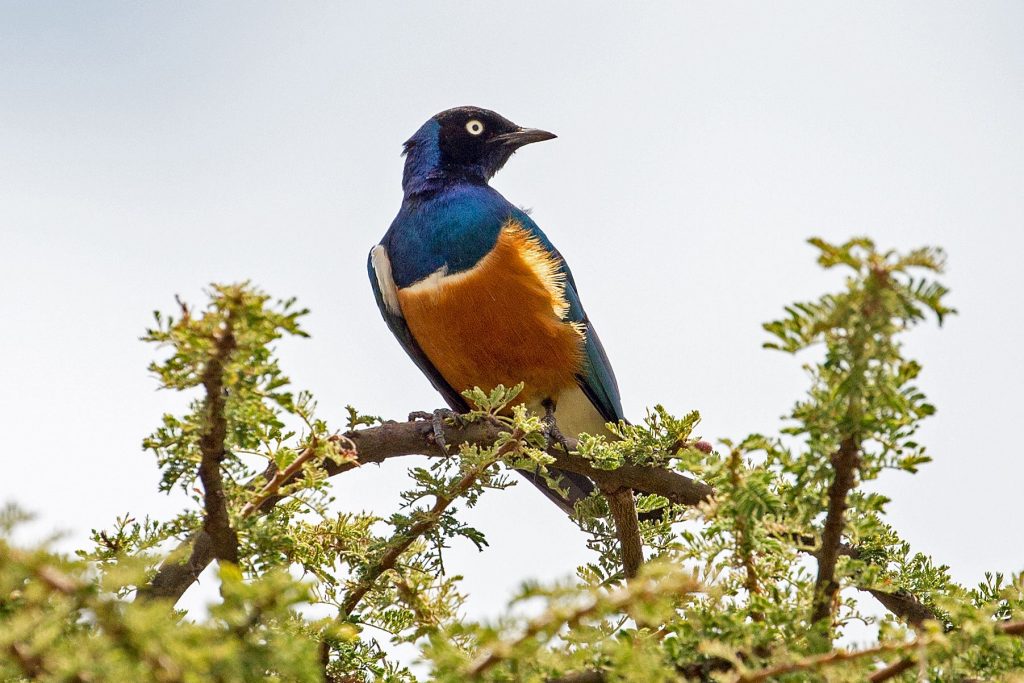 Superb Starling
On arrival at our hotel at Lake Awassa we had a short rest and then birded the local area. The trees in the garden held a large Maraboo Stork colony and by the river we found Malachite and Woodland Kingfisher as well as African Jacana and Black Crake. We also saw a troop of Guereza Colobus monkeys in the hotel grounds.

Malachite Kingfisher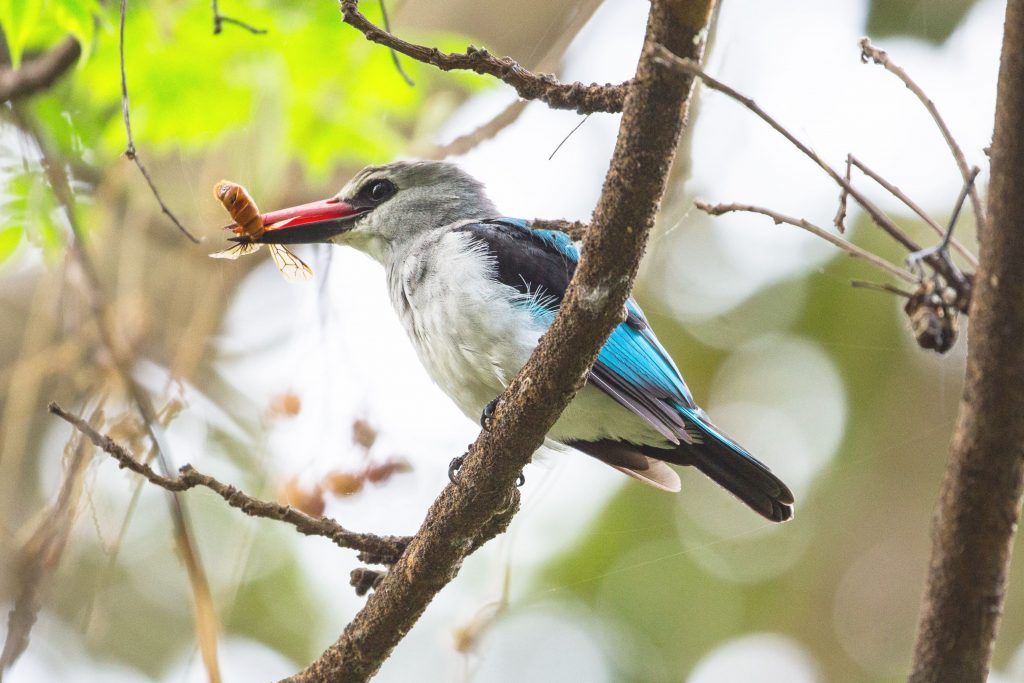 Woodland Kingfisher
The next morning, we visited the village fishing area where there were hordes of people and the fisherman were landing, sorting and selling their catch. We saw both Whiskered and White-winged Black Tern and then moved on to a wooded area where we picked up a pair of African Grey Woodpeckers, Great and Pinked-backed Pelicans, African Fish Eagle as well as troop of Vervet Monkey. Continuing our journey north through The Great Rift Valley we reached Lake Langano and after lunch set off into the forest with a local bird guide. The highlight was seeing a pair of Lemon Doves. Later we had an evening walk when we saw a Verreaux's Eagle owl and had views of 3 Red-throated Wryneck and, as the light faded, 2 Freckled Nightjar flew close by.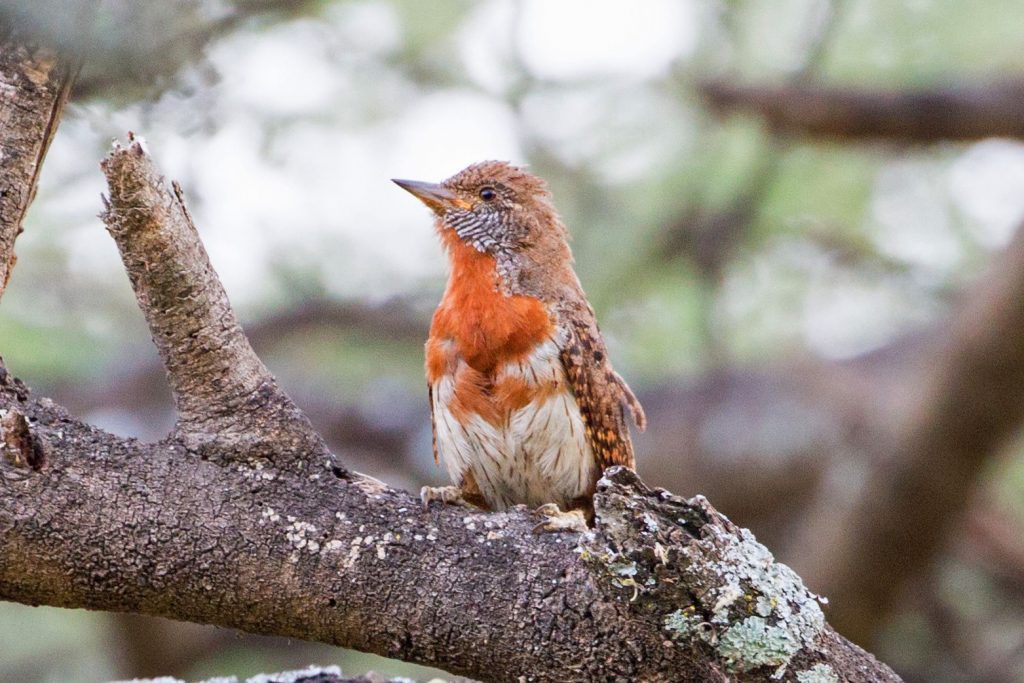 Red-throated Wryneck
We set off north again to get to Awash National Park, our last main birding area of the trip. As usual we made a number of stops and saw African Pygmy Falcon and Goliath Heron and also a Bush Hyrax. We picked up an armed guard at the entrance to the Lodge grounds & then slowly birded our way towards the lodge at the Awash Falls. The birding was excellent and we saw Abyssinian Roller, a displaying male Straw-tailed Wydah and close by a male Pin-tailed Wydah both in full breeding plumage. A very smart Kori Bustard strutted through the long grass. As the sun set, we saw a couple of Sommering's Gazelle and we had a very atmospheric view of a pair of Tawny Eagles silhouetted sitting on an old tree stump against an orange pink evening sky, followed by an amazing sunset.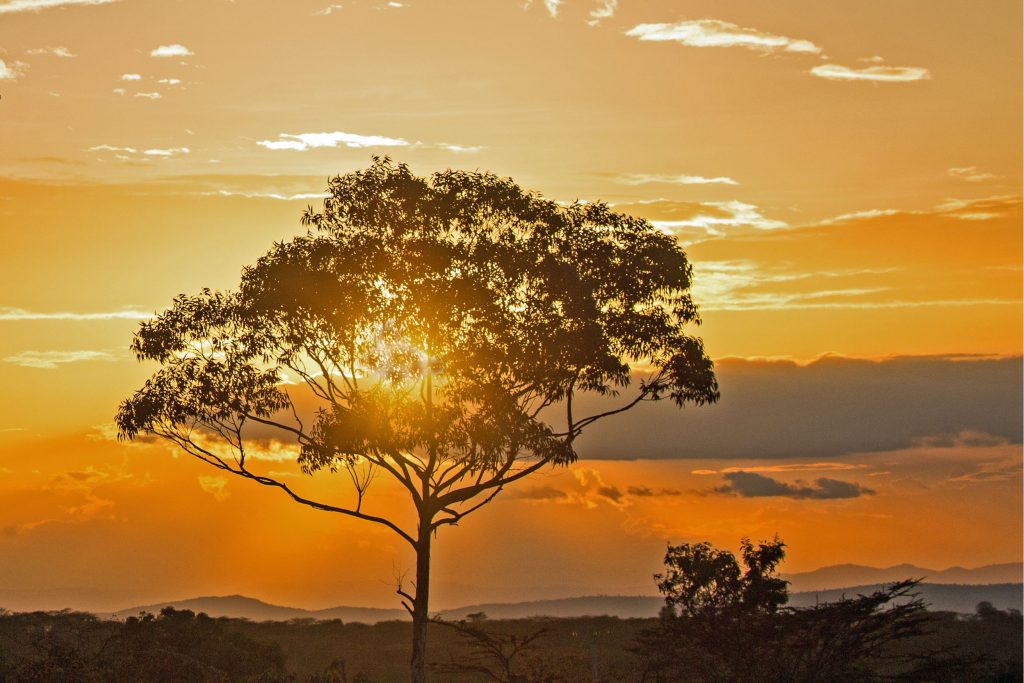 Sunset
In the morning we drove to the Park and on the way, we had superb views of Olive Bee-eaters as well as seeing a number of Salt's Dik-diks. By the time we entered the Park it was extremely hot but we managed to find a Secretary Bird, Grasshopper Buzzard, Two-banded Courser and a group of about 30 Chestnut-bellied Sandgrouse. We found a cooler place outside the Park and had a cold drink with our lunch before returning. to the Lodge. We returned to the Park in the evening picking up White bellied and Buff-crested Bustard as well as a Jackal snoozing in the evening sunshine. As we were returning, we saw a Star-spotted Nightjar in the headlights just front of us soaking up the heat of the day from the track. We got out of the bus and stalked closer to get really nice views.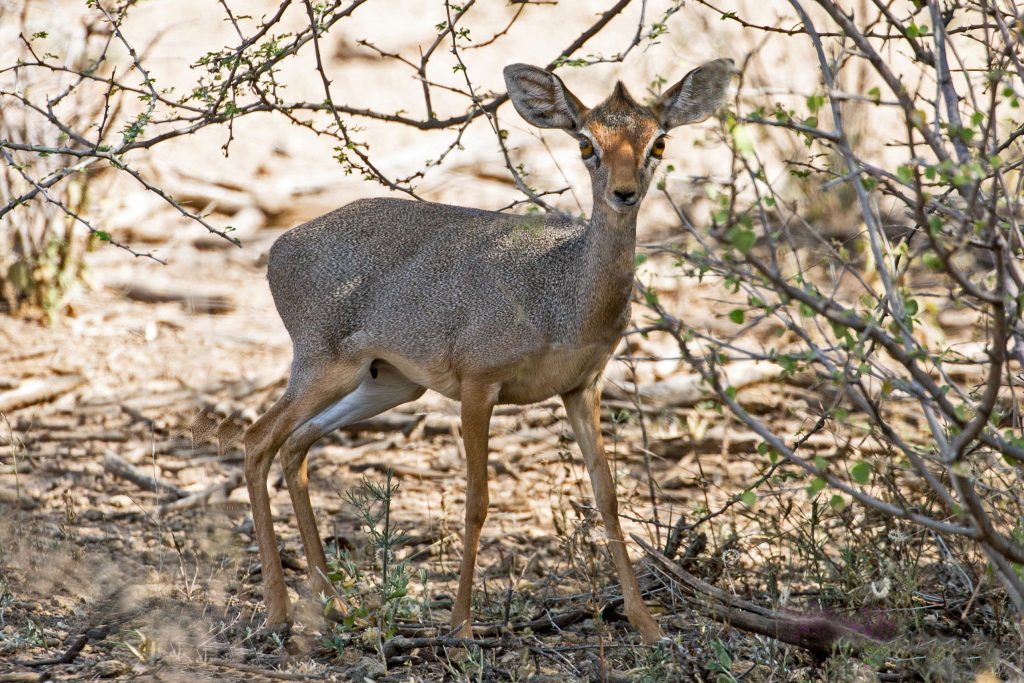 Salts Dik-dik
We spent some time on our last morning in the park but then it was time for the journey to Addis Ababa although of course we did some birding on the way. We arrived in the evening and after a leisurely meal, transferred to the airport for our 01:15 flight back to the UK.
This was a pretty 'full-on' trip with long days and journeys, but it was an amazing experience. As well as the wildlife we learned a lot about Ethiopia and hope that all the positive things we heard about will continue into the future for this wonderful country.
There is a much more detailed report of this trip on the Oriole Birding website with a list of all 411 bird species seen, together with 32 mammal, 6 reptile and 13 butterfly species.