RAJASTHAN: 29th January to 12th February, 2017
My fifth visit to India since first travelling there in 2009 took me to Rajasthan, a fascinatingly diverse region and one extremely rich in birdlife. Here are just a few of the many photographs that I accumulated during the trip and some notes regarding my experiences. There is a more detailed account (text only) available for anyone wishing to contact me (by email please, see list of members).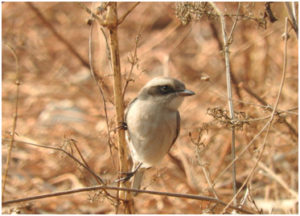 Common Woodshrike
This is one of many birds seen in an area of scrub and parkland in Jaipur. We were asked not to reveal the precise location because of the presence of a Spotted Creeper. Other birds seen here included Indian Peafowl, Grey Francolin, Marshall's Iora, Small Minivet, Rufous Treepie, Spotted Owlet, Indian Roller and Dusky Eagle Owl.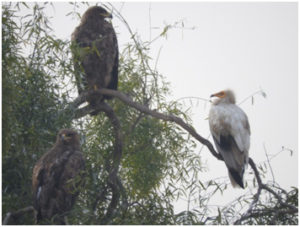 Steppe Eagles and Egyptian Vulture
The town of Bikaner, a full day's drive from Jaipur, lies among the scrub and sand dunes of northwest Rajasthan. Just outside the town is the carcass dump where literally every tree and post sported some kind of raptor, presumably digesting what they had consumed. In the general area we also saw Yellow-eyed Pigeons (endangered), Bimaculated Larks and a Southern Grey Shrike. It was a surprise to see Cattle Egrets and Red-naped Ibises picking at the huge pile of bones.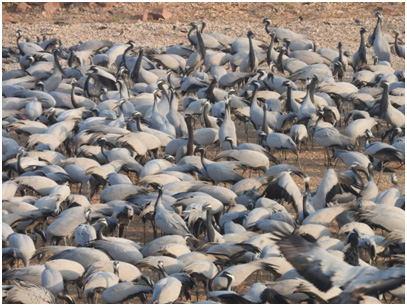 Demoiselle Cranes
The villagers of Khichan have been providing grain for wintering Demoiselle Cranes since the 1970's. The birds now come in their thousands and it is, without doubt, one of the great wildlife spectacles. It was a real privilege to be able to stand on the roof terrace of a house overlooking a feeding enclosure as the cranes flew just metres above our heads; the sight and sound was quite extraordinary.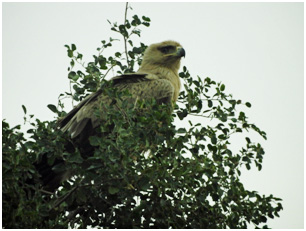 Tawny Eagle
The Desert National Park, in the Thar Desert which stretches into Pakistan, is home to some very special birds. A Tawny Eagle stayed put despite our coach stopping very close by. The rare and endangered Great Indian Bustard was my personal highlight but we also saw Stoliczka's Bushchat, Desert Larks, Black-crowned Sparrow Larks, Laggar Falcon and Chestnut-bellied Sandgrouse.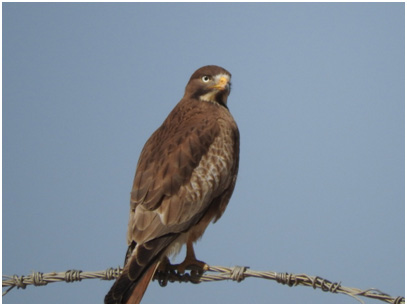 White-eyed Buzzard
Our last full day of desert birding began at the "ghost" village of Khuldera where Desert Larks, Indian Courser, Isabelline Shrike and four different species of Wheatear were discovered. On the way back to camp for lunch we came upon this splendid White-eyed Buzzard. An afternoon excursion took us past the carcass of a cow that was attracting the attentions of a range of Vulture species and one or two dogs. At the end of a climb up to a rocky outcrop we were rewarded with the sight of a perched Indian Eagle Owl.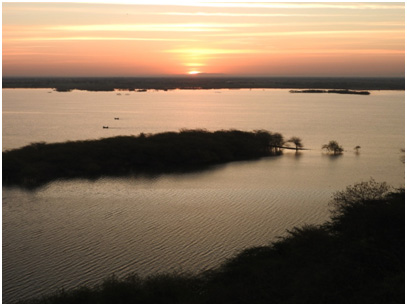 Sardarsamand Lake
This lake is the setting for the 1933 art deco hunting lodge, now a hotel, and the adjacent palace. On our arrival we counted forty Black-crowned Night Herons on this island and a sizeable murmuration of Rosy Starlings entertained us as dusk fell. The rich birdlife on and around the lake, including White Pelicans, Greater Flamingos, Bar-headed Geese, River Terns and much more, kept us occupied the following day.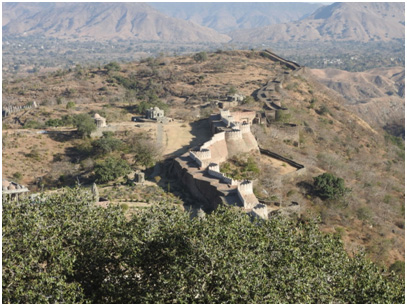 Kumbhalgarh Fort
Our next hotel, Fateh Safari Lodge, was situated within sight of this magnificent fort that boasts a wall 36 kms long and is wide enough for horsemen to ride six abreast; and it dates from the late fifteenth century! A walk along the road beneath the fortifications produced some terrific birding with Crested Hawk Eagles and White-naped Flameback the most notable birds. Earlier, before leaving the hotel, we had seen Crested Bunting, Alexandrine Parakeet, Wryneck and Black-winged Kite.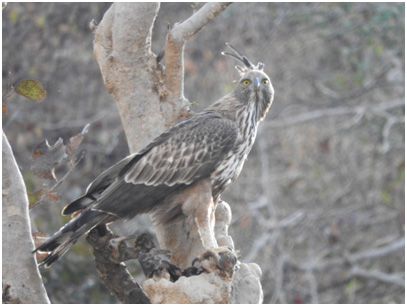 Crested Hawk Eagle
A late afternoon walk from the hotel through the nearby village gave us excellent views of Plum-headed Parakeets, Roller and Green Bee-eaters.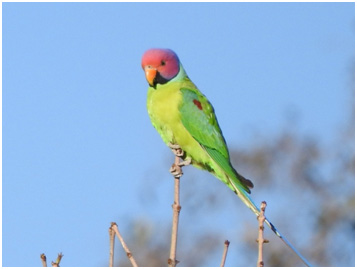 Plum-headed Parakeet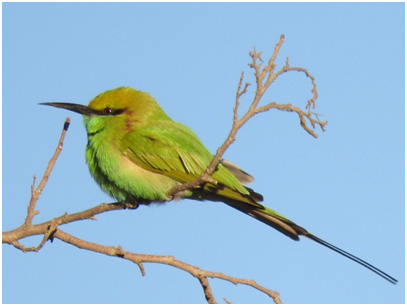 Green Bee-eater
The approach to our next stop was unsuitable for a large coach so, in the nearby village, we had to transfer to jeeps which would be our method of transport during our stay at Godwad Safari Camp. Southern Coucal, Blyth's Reed Warbler, Pied Bushchat, Large Cuckooshrike and Purple Sunbird were found around the camp.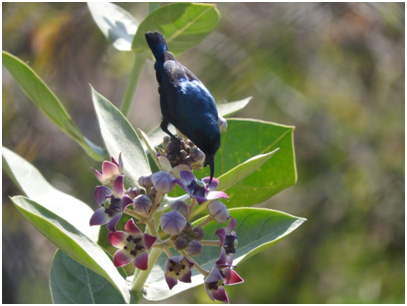 Purple Sunbird
In the late afternoon we set off in jeeps to Jawai Band where an extraordinary landscape of wetlands and mountains had been created by damming the Jawai River. The number of birds present was quite staggering; throughout the whole day the group recorded around one hundred species. One rocky island was covered with Cormorants whilst another had Lesser Whistling Ducks, Spotted Redshanks and Woolly-necked Storks. The terrain was very uneven but there was virtually nowhere that our intrepid drivers considered inaccessible.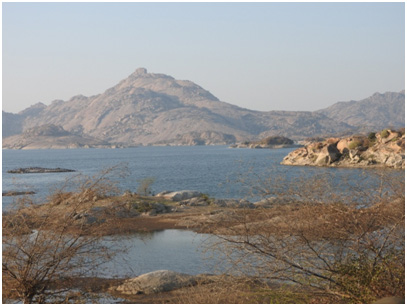 Jawai Band
Once the sun had set we went in search of Nightjars and Leopards. Sadly, we saw neither but the drive back to camp in the dark left many of us in need of a good stiff drink!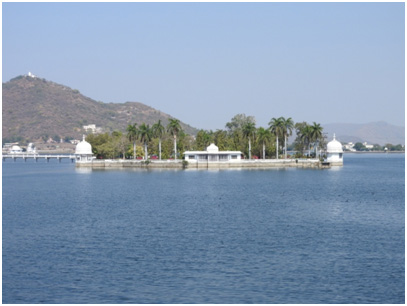 Lake Pichola, Udaipur
On our last full day we were driven to the picturesque city of Udaipur in time for lunch overlooking Lake Pichola and the striking Lake Palace, now a hotel. In addition to the Spot-billed Ducks there were some more familiar birds, such as Tufted Duck, Gadwall, Coot, Wigeon and an Osprey.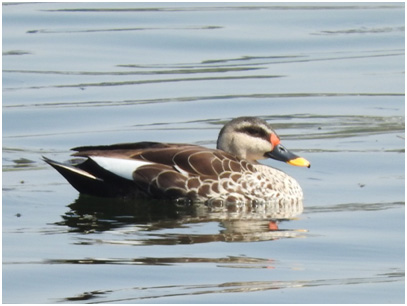 Spot-billed Duck
Finally, we had an excellent guided tour of the City Palace complex before going to the airport for the short internal flight back to Delhi and our last evening in India.
For the record, the total number of species recorded by the group was just over two hundred and the Spotted Creeper was adjudged "Bird of the Trip" in a very tight vote.
John Thorogood.